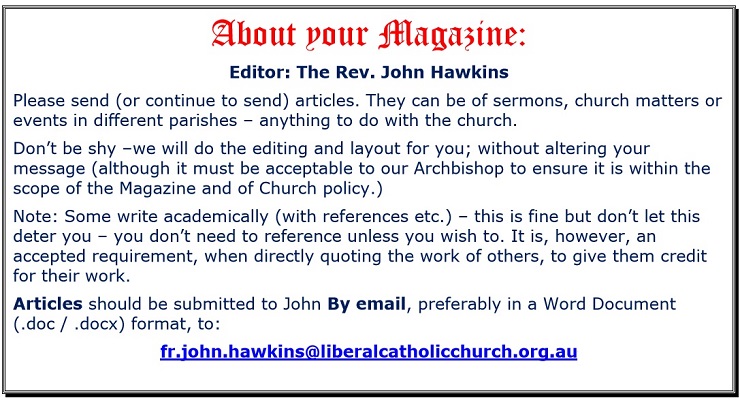 The Liberal Catholic Church of Australia creates a Communion Magazine periodically to for our friends, supporters and followers. It is delivered via our friends email mailing list.

Anyone can subscribe to this mailing list to receive the magazine issues as they are released.

To subscribe (or unsubscribe), enter your email address in the box to the right.
Below is a list of all past issues...
---
| | |
| --- | --- |
| Mon, 3 Apr 2023 | |
| Wed, 14 Dec 2022 | |
| Sat, 13 Aug 2022 | |
| Sun, 10 Apr 2022 | |
| Sun, 19 Dec 2021 | |
| Tue, 31 Aug 2021 | |
| Tue, 16 Mar 2021 | |
| Mon, 7 Dec 2020 | |
| Mon, 10 Aug 2020 | |
| Tue, 31 Mar 2020 | |
| Thu, 19 Dec 2019 | |
| Thu, 12 Sep 2019 | |
| Mon, 22 Apr 2019 | |
| Sat, 29 Dec 2018 | |
| Sun, 25 Nov 2018 | |
| Thu, 29 Mar 2018 | |
| Tue, 19 Dec 2017 | |
| Sat, 1 Apr 2017 | |
| Thu, 1 Dec 2016 | |
| Mon, 1 Aug 2016 | |
| Fri, 1 Apr 2016 | |
| Tue, 1 Dec 2015 | |
| Mon, 1 Dec 2014 | |
| Mon, 1 Sep 2014 | |
| Sun, 1 Jun 2014 | |
| Sat, 1 Mar 2014 | |
| Sun, 1 Dec 2013 | |
| Sun, 1 Sep 2013 | |
| Sat, 1 Jun 2013 | |
| Mon, 1 Apr 2013 | |
| Sat, 1 Dec 2012 | |
| Sat, 1 Sep 2012 | |
| Fri, 1 Jun 2012 | |
| Sun, 1 Apr 2012 | |